What is MARINGLIDE™?
MARINGLIDE™ is an adhesive film with special layers that help prevent biofouling.
The anti-biofouling layer works by preventing organisms from attaching to the film by blocking the proteins those organisms use to adhere to surfaces. This removes the need of biocide substances, making it more sustainable solution for anti-biofouling.
It is also made with a pressure sensitive adhesive, so it is easy to apply to surfaces.


Protecting Sensors
One of the first applications for MARINGLIDE™ was for the protection of high-end acoustic sensors (ADCP) deployed underwater. These sophisticated sensors could not be covered with anti-fouling paint, and had to undergo regular and costly maintenance to keep clean from biofouling. For these sensors, biofouling is a threat to accurate data measurement, potentially compromising the findings of researchers using ADCPs.
Nitto teamed up with Nortek, an innovative developer of ADCPs, to conduct a test of MARINGLIDE™'s effectiveness on ADCP transducers. These transducers are used to measure water velocities in the ocean using acoustic signals (by using the Doppler effect). When the ADCPs are deployed for several months the transducers can become obscured due to biofouling, which means the data can become inaccurate or incomplete. For this test, MARINGLIDE™ was placed over each of the Nortek transducers and was deployed for four months. When the ADCP was retrieved, the team found the transducers protected by MARINGLIDE™ were free of biofouling. During the deployment, the sensors were able to maintain their readings without impediments from organisms that would otherwise cause further challenges for the team.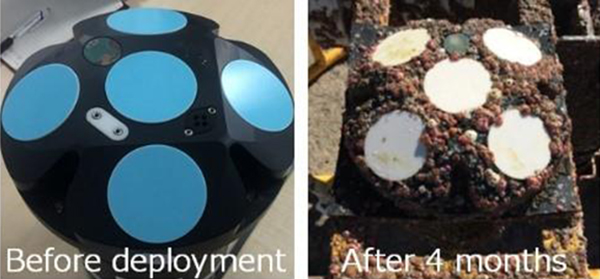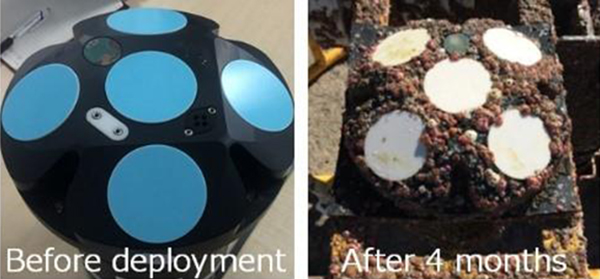 Nortek was pleased with the results, expressing that MARINGLIDE™ was the solution they had been looking for and would greatly contribute to oceanic research.