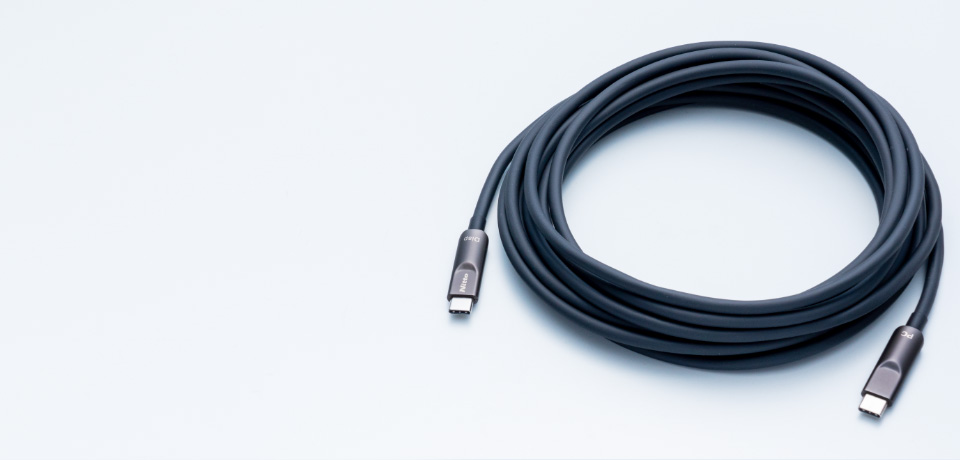 Compatible with USB Type-C® Connector


Active Optical Cable
Nitto has released the Active Optical Cable (AOC) all over the world, which possesses the unique features of Plastic Optical Fiber (POF). It is ideal for USB Type-C® and DisplayPort Alt mode used in cutting-edge business applications, such as virtual reality (VR) and 8K displays. The AOC, which was uniquely developed by Nitto from the material stage to meet the growing need for high-speed transmission in all markets, offers superior flexibility, and while being safe and secure, enables high-speed transmission and a high degree of freedom to develop how it can be used.
* USB Type-C® is a trademark of USB-IF (USB Implementers Forum, Inc.).
Key Points

Industry's first compact and lightweight AOC that is 40% thinner than before
Enables high-capacity communication by maximizing the strengths of wired connections
USB Type-C® is being increasingly adopted in a wide range of devices
Industry's First Compact and Lightweight AOC That Is 40% Thinner Than Before
By incorporating Nitto's core technology, a unique photoelectric conversion module made by integrally molding a flexible printed circuit and a polymer optical waveguide, we have succeeded in making it approximately 40% thinner than that of conventional connectors. In addition, the POF is both lightweight and highly flexible, allowing it to be used safely in a variety of situations such as wiring in local spaces, inserting it and removing it repeatedly, and using it to be able to move cables around.

Enables High-capacity Communication by Maximizing the Strengths of Wired Connections
Even though wireless communications have become faster with the advent of the 5G era, the amount of information transmitted over optical communications is more than 10 times that. For instance, for real-time transmission of 8K video, which requires large-volume data transmission, communication quality cannot be ensured without wiring. When it comes to high-speed transmission, electric cables get thicker, heavier, and their distance is limited. Nitto's AOCs have made stable, high-capacity communications with thin, lightweight cables a reality.
USB Type-C® is Being Increasingly Adopted in a Wide Range of Devices
The USB Type-C® connector supports video output in DisplayPort Alt mode, so it can be used for a wide variety of uses such as VR, 4K/8K displays, and also video systems in operating rooms which need it to be high-speed and noiseless, and in-vehicle infotainment.
Nitto's AOC is thin and flexible, yet has superior stability and durability, and can be used safely in a variety of applications for professional use.
Contributes to Creating a Comfortable Remote Environment

Thin, compact connectors and highly flexible POFs enable space-saving wiring even in small, confined spaces, such as when connecting multiple monitors to a PC, or a camera to a control tap in a videoconferencing system. It has achieved easy connection and free equipment layout, supporting the creation of a remote environment.

Providing Both VR Functionality and Communication Stability

To immerse yourself in a virtual space for a long period of time without feeling fatigue, it is necessary to have enhanced resolution and lightweight VR, as well as high-speed communication and power supply through connection with a high-performance PC. Lightweight and flexible AOCs provide both functionality and communication stability.

Can Be Used Safely in Factories, Medical Care, and Mobility Fields

A wide variety of cameras are successfully used in remote operations and automation using robots and AI. AOCs that are resistant to bending and vibration and can be used safely will contribute to such things as machine vision that requires high flexibility and durability, operating rooms that are susceptible to electromagnetic radiation, endoscope monitoring that requires low latency and in-vehicle infotainment.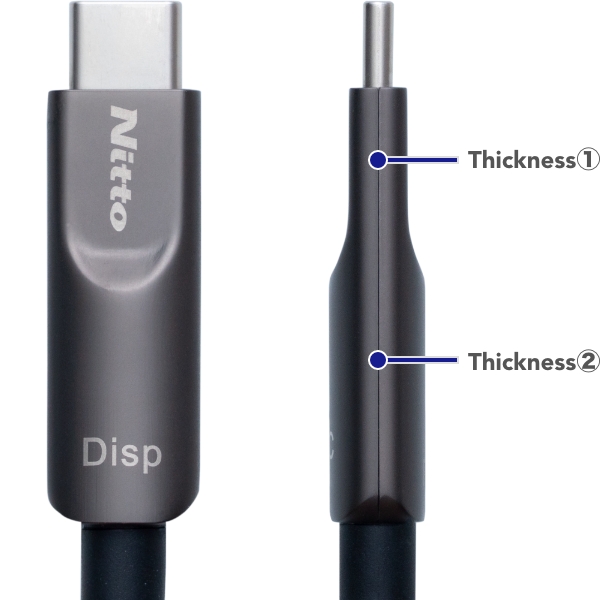 Connector
Width
11.0mm
Length
31.5mm
Thickness
(1) 4.6mm (2) 8.0mm
Terminal
USB Type-C® male - USB Type-C® male
Cable Diameter
4.8mm
Optical Fiber
Graded Index (GI) Type
High Speed Transmission Multimode Plastic Optical Fiber
Weight/length
Approx. 200g / 5m
Transmission Standards
Display Port 1.4 Transmission
Compatible
USB Power Delivery
3A / 20V
USB 2.0
Compatible
In addition to USB, HDMI and datacom AOCs are under development, and the lineup will be expanded as and when it is needed.
USBTypes

HDMITypes

Display PortTypes

DatacomTypes
Download here for details about Active Optical Cable Compatible with USB Type-C® Connector